Watch March Madness Live in 2012 on iPad, iPhone, or Android
Can't stand the thought of missing any of the 67 NCAA Men's Basketball tournament games that make up March Madness? With March Madness Live App for iPhone, iPad, and many Android devices, you'll be able to watch every game of March Madness on all your mobile device and your computer.
Most people are stuck at work (or school) during the Thursday and Friday games. In previous years, College Basketball fans could enjoy free streaming games via their computer and mobile devices. The NCAA announced last month that they would be charging $3.99 this season to watch the NCAA Men's Basketball Tournament online. While longtime fans might initially bristle at the thought of paying, the beauty of the deal is that $3.99 gets complete game access across various mobile platforms. You'll receive access to EVERY game of the NCAA Men's Basketball tournament on your computer AND iPad, iPhone, iPod Touch, and certain Android devices. Check out the March Madness Live FAQ for a full list of supported devices.
The $3.99 upgrade will also give you the ability to watch the NCAA Men's Basketball Tournament Selection Show, free live team practice footage from the Final Four, and for iPhone and iPod Touch users, you'll also get highlights right after each game.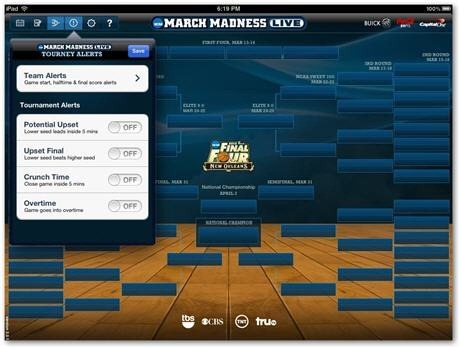 If you don't fell like dropping the $4 bucks for the live streaming video via the March Madness Live app, you'll still be able to LISTEN to every game free via the app. This could be a perfect solution for those in a work environment that allows them to listen to the radio, but would frown upon watching games.
You'll can fill out and track your bracket via the app, get live scores and stats, get alerts for potential upsets, overtimes, crunch time, and your favorite teams.
Overview
Based on the fact that March Madness has previously been streamed free via the March Madness on Demand App, I suspect some will complain about having to pull out their wallets to watch this year. Frankly, I think the $3.99 price is very reasonable. At that price point I won't think twice about plunking down my money for the convenience of watching on mobile devices. Even if you aren't planning on paying, the app is still worth having. You can still listen to the games, get alerts, and fill out brackets.
NOTE: All the CBS games will stream live online at CBSSports.com, and games on TBS, TNT, and TruTV will be available online to subscribers of those channels through their TV providers.
Price: Free. $3.99 upgrade for live video access to every tournament game.
Download
iPad: NCAA® March Madness Live – NCAA Digital
iPhone: NCAA® March Madness Live – NCAA Digital
Android: To be released by March 13th




by