Review: MLB At Bat 12 for iPhone and iPad
Are you ready for the MLB season to get underway? For baseball fans who live and die with their mobile devices, it's time to celebrate the annual release of MLB At Bat for iPhone and iPad.
In previous seasons MLB released both a free "Lite" version that provided bare bones MLB content, and a separate premium app that cost $14.99 and came with all the MLB goodies. This year the app is free to download with optional in-app purchases. $14.99 for the entire season or $2.99 per month. (Note: You're automatically charged $2.99 each month until you cancel if you choose the monthly option)
Most of the cool new features come in the way of improved pricing. For the first time, MLB At Bat will be a Universal app. This means if you have an iPhone and an iPad, you can get the app for a single purchase price. Plus, if you are an MLB.tv Premium subscriber, you'll get full access to the app on all platforms for no additional cost.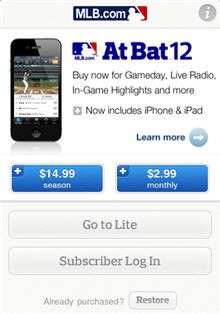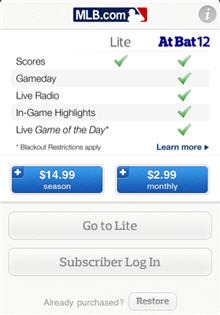 What do you get with MLB At Bat 12?
Live game audio of every MLB regular season and spring training game. Both home and away broadcasts. No Blackouts.
Free game of the day. Each day MLB chooses a free game to watch on your mobile device. Blackout restrictions do apply. [Ed Note: Don't expect these to be marquis matchups. Last season it was a lot of matchups between MLB bottom feeders, but hey, it's still free baseball.]
MLB's Gameday (see below) which is a visual representation of the home ballpark from the catcher's perspective complete with pitch tracker, play-by-play, in-game stats, box scores, and in-game highlights. Team this up with the audio and it's really not a bad way to follow a game.
MLB News
The news section is essentially the same outstanding presentation from last year. Side to side swipes allow you to move through past news articles which include embedded video features. The video quality of the news clips is excellent and they can be enlarged to full screen size while maintaining very good quality.
On the downside, it may be a little off-putting for some to have ads in an app for which you already plunked down 15 bucks, but they are pretty unobtrusive.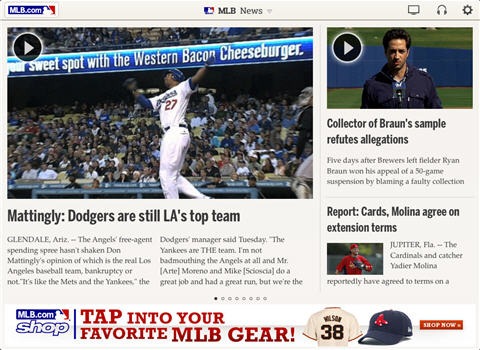 The news can be filtered by teams, so you can easily focus on only your favorite team.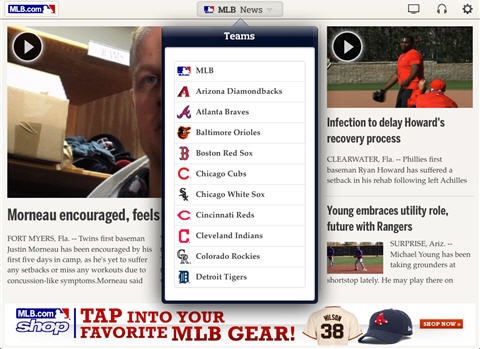 Overview
$14.99 is certainly on the high end for an app, but MLB at Bat does come packed with quality content. For my money, the price is worth it for the game day audio alone. Being a MLB.tv premium subscriber it's even better because I don't have to pay for apps and get to watch every out-of-market game live on mobile devices. Find out more about subscribing to the MLB.tv Premium package here on MLB.com.
We'll update with a more thorough review as Spring Training and the season get underway and we get more time in with the app.
Cost: $14.99
Download
iPhone: MLB.com At Bat for the iPhone from the App Store.
iPad: Download  MLB.com At Bat for the iPad from the App Store.




by