Watch NBA Rising Stars Game Live Online with TNT Overtime
Looking for a way to watch the NBA Rising Stars games online? TNT will stream the game online with TNT Overtime.
The NBA Rising Stars Game featuring first and second year players is the NBA's All-Star Weekend's appetizer to the Three-point contest, Slam Dunk Competition, and the NBA All-Star Game itself.  Once again this year, teams will be picked by TNT analyst and former NBA superstars Charles Barkley and Shaquelle O'Neal. Some of the featured players for 2013 incluse Kyrie Irving, Anthony Davis, Kemba Walker, Rickey Rubio, Damiam Lillard, Kenneth Faried and Kawhi Leonard.
The game begins at 9:00 PM ET on TNT, but if your can't get it at home, or can't be in front of a TV, you can still catch the game live with TNT Overtime. The TNT Overtime app lets you choose from a variety of camera angles or watch in mosaic view. Fans can also select which players they which to see on the player cams.
Watch the NBA Rising Stars Game Live Online at TNT Overtime (link updated)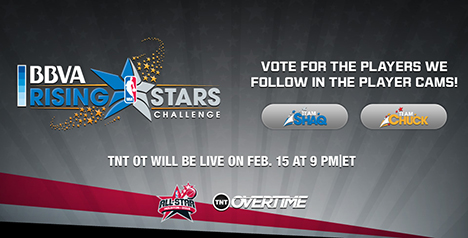 by