NFL Flick Quarterback Review for iPhone, Android, and iPad
Looking for a fun NFL football game for your mobile device? NFL Flick Quarterback puts you in the pocket and challenges you to complete passes like an NFL Hall of Famer.
NFL Flick Quarterback is another offering from Full Fat, makers of other "Flick" games. In NFL Flick Quarterback, you use your finger to "flick" passes to your receiver or at a target. When the ball is in the air you can try to control it with right to left flicks. As you improve you'll also get pass rushers in your face. Use a right or left swipe to avoid the rush.
Game Modes
Playmaker – You have 3 footballs and unlimited time to complete passes to your receiver. Incompletions and Interceptions will cost you a football. When you have none left. Game over.
Quick Fire – You have 45 seconds to amass as many points as you can by completing passes. Touchdowns will give you more time back on the clock while sacks and interceptions will subtract clock time.
Trick Shot – Score points by tossing the football into the bucket.
Trick Shot XL – Knock down the buckets in as few a throws as possible.
You've got to keep an eye on the safety especially on deep passes because he will come out of nowhere and pick off your pass. He's like Ed Reed back there.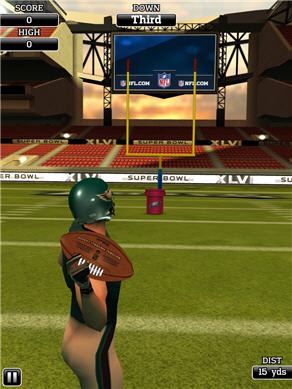 The graphics are very nice and the game play is quite enjoyable. Plus, you can pick your favorite team and even put your name on the back of the jersey. It doesn't take too long to get the hang of throwing passes and adjusting the flight in the air if needed. One oddity is that the players will often make incredible catches on balls you think would be out of reach, but if you throw a pass into a crowd, a defender will often make no play on the ball and even sometimes seem to almost move out of the way of the pass so your receiver can make the catch.
NFL Flick Quarterback isn't quite perfect, but I do find myself coming back and playing quite often. I found the Quick Fire mode to be the most fun, while the Trick shot games were a little more boring. The original cost was $2.99 for iPhone and $4.99 for iPad. I would probably shy away from paying those prices, but now that they have reduced the price to 0.99, NFL Flick Quarterback is a pretty great deal.
Download
Download NFL Flick Quarterback or NFL Flick Quarterback HD for the iPad.
Download NFL Flick Quarterback for Android from the Android Market.
If you enjoy NFL Flick Quarterback you might also want to check out NFL Flick Kicker.




by