Watch SEC Football on iPhone and iPad with CBSSports Mobile App
Each Saturday during the college football season, you can find top SEC matchups broadcast on CBS. If you can be on the couch soaking up the action on the big screen TV, you can still watch the games on the go (and for free) with CBSSports Mobile app.
iPhone
The CBSSports Mobile app for the iPhone isn't  anything special, but the one great feature is that it will allow you to stream live CBS college football (and college basketball) games. Typically, there will be one Saturday afternoon game per week, but there are few doubleheaders on the schedule each season.
You don't get an entire slew of DVR controls, but you can pause, jump back in 30 second increments.
iPad
To find Live Streamed games, go to the scores section of the app and look for "Watch Live."

This will take you to the Game Center where you can choose to watch either the regular CBS telecast or the All-22 view.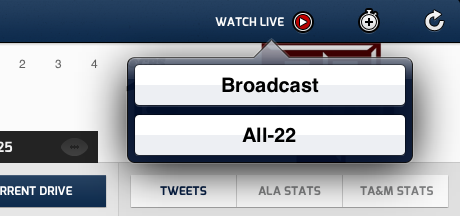 Overview
The video quality is normally quite nice. We've experienced some choppiness and buffering at times, but you can live with it. If you prefer to watch online, you can do so at CBSSports.com with the online live player. The latest version of the app required iOS 6 or higher.
Download
iPhone: CBS Sports Mobile
iPad: CBS Sports for iPad




by