Get an NFL Game Rewind, Audio Pass, and Game Pass 7 Day Free Trial
The NFL is offering a 7 day free trial of their online digital products. From now through September 19th, try NFL Game Rewind, Audio Pass, or for those outside the U.S and Mexico, Game Pass.  
Game Rewind allows you to watch Every NFL Game online and on demand beginning the next day. Audio Pass gives you streaming radio play-by-play of every NFL game live and on demand, and Game Pass lets fans outside the US & Mexico watch every game live online.
We've reviewed both Game Rewind and Audio Pass in the past (and Game Rewind again in 2011), but now you can check them out yourself rather than taking my word for it!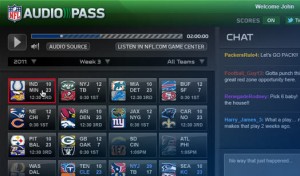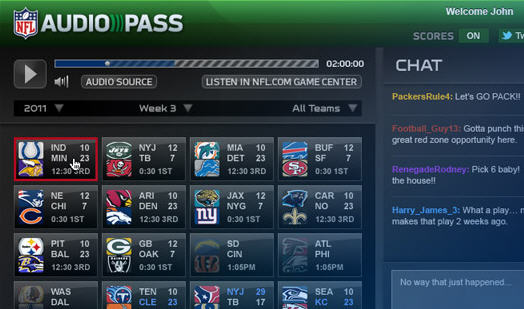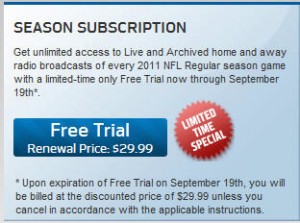 It's one of those deals where you have to cancel by Tuesday, September 19th or they will charge your credit card for a season subscription. You cancel by sending an email or using the online support chat.
How to Get the Free Trials
Follow the links below for your free trial.
Audio Pass: Get a 7 Day Trial of NFL Audio Pass (Regular price $29.99)
Game Rewind: Get a 7 Day Trial of NFL Game Rewind (Regular price $39.99)
Game Pass: Get a 7 Day Trial of Game Pass: Watch NFL games live online outside the U.S. (Prices can vary by region or country but subscriptions begin around $150 US)




by