Are you looking for ways to watch NFL Games legally on your computer? We've compiled all the available ways to legimately watch NFL Games online. Some products are on the pricey side, but some are available for free.
NOTE: We'll be updating this post as new information becomes available.
Sunday Night Football
The NFL's Sunday Night Football schedule has consistently provided premiere NFL games since NBC took over. Flex scheduling at the end of the season allows SNF to show games with playoff implications even when the originally scheduled games turn out to be less than stellar. Every Sunday Night NFL Game is available free online via Sunday Night Football Extra at NBCSports.com. SNF Extra features picture in picture with additional exclusive online camera angles, "HD Quality," and DVR controls. In 2011, NBC added free live streaming of their broadcast Wild Card games along with Super Bowl 46.
iPad owners can watch Sunday Night Football Online through the iPad stream link from NBCSports.com.
Verizon Wireless customers can also watch on their mobile devices with the NFL Mobile app and NFL Mobile Premium subscription for $5/month. 
Watch Sunday Night Football Live Online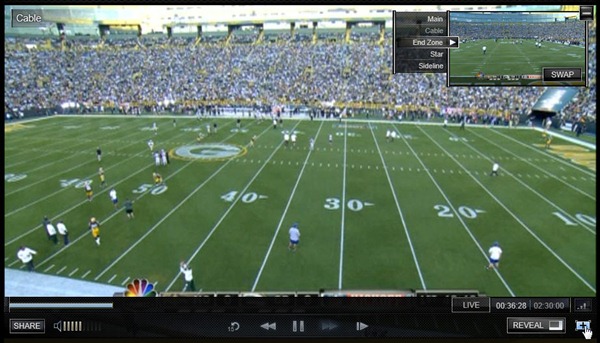 Monday Night Football
Yes, it is actually possible for some people to watch Monday Night Football live online on WatchESPN.com. Unfortunately, those people are limited to subscribers of TV service from Time Warner, Bright House Networks, Comcast or Verizon FIOS. It's "free" for those subscribers, but of course, you need to already be paying for ESPN via your TV provider to also get access online. WatchESPN is also "coming soon" to the Xbox.
 As with the Sunday Night games, Verizon Wireless customers can also watch MNF games on their mobile devices with the NFL Mobile app and NFL Mobile Premium subscription for $5/month.

NFL Sunday Ticket Online & on PS3
NFL Sunday Ticket is offered only by DirecTV and gives you access to every Sunday Afternoon NFL game, with the exception of games already broadcast locally in your area. Once again this season, DirecTV has rather quietly offered the NFL Sunday Ticket online to non-DirecTV subscribers who cannot purchase DirecTV for one reason or another. (condo rules, line of site issues, etc.). The price for 2012 is $250. With this package you'll also get the additional bonus being able to watch games on certain mobile devices  (iPad, iPhone, Android) through the NFL Sunday Ticket app.
Do you have a Playstation 3? If so, you can also subscribe to NFL Sunday Ticket through your PS3 for $299.95 beginning on September 4th.
UPDATE: Check out our 2012 review of NFL Sunday Ticket online, iPad, and PS3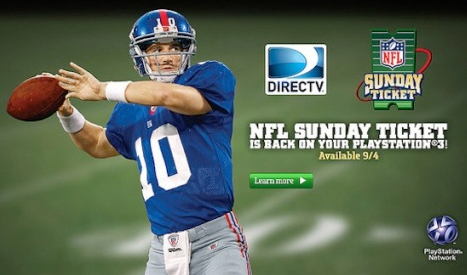 Thursday Night Football on NFL Network
Ok, these NFL Network Thursday night games are sort of available to watch online at NFL.com. You don't get the full telecast, but rather frequent "live look-ins." This means they show some of the game and when they hit a commercial break, the broadcast get thrown back to the studio crew who "breaks down"  the recent action and further discusses the game. Eventually they take you back to the broadcast, but it could be 10 or more minutes later and after you've missed a chunk of the game. In a nutshell, it's not an ideal way to watch, but hey, at least it's something. On a positive note, they usually stay on the game during the last few minutes of the 4th quarter so you can watch the end rather than leaving you hanging. In 2012, the schedule has been expanded to include 13 Thursday NFL games.
Verizon Wireless customers can also watch Thursday Night games on their mobile devices with the NFL Mobile app and NFL Mobile Premium subscription for $5/month. 
Watch Thursday Night Football at NFL.com/Live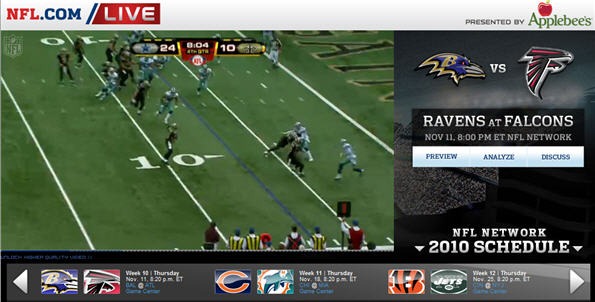 NFL Wild Card, Super Bowl, and Pro Bowl
UPDATE:  Super Bowl 47 will be available online via CBS. NBC's WIld Card games will again be available online as well as the NFL Pro Bowl. 
Beginning in 2011, post-season NFL games broadcast by NBC were streamed live online at NBCSports.com and NFL.com.  This lineup included two Wild Card games, the Pro Bowl, and Super Bowl 46. The online viewer is the same as Sunday Night Football Extra and provided all of the same features.
SUPER BOWL 47: Here is the link to Watch Super Bowl 47 at CBSSports.com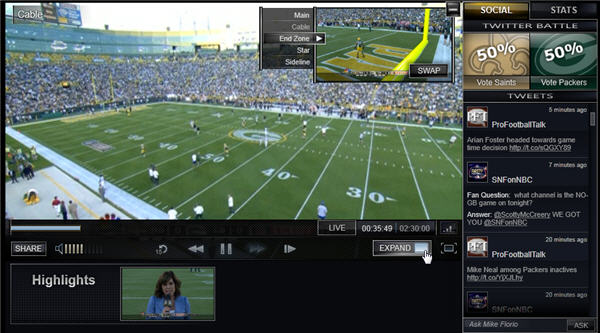 NFL Game Pass – Outside the US & Mexico
If you live outside the United States, Mexico, and US territories, you are eligible to purchase NFL Game Pass and watch every NFL Game live online.  The prices start around $150 for a basic subscription, but may vary depending on your country or region. The good people at NFLDownUnder.com have put together a very nice review of Game Pass if you are searching for a little more information into how it all works.
For more information see the NFL Game Pass FAQ, or order NFL Game Pass here from NFL.com.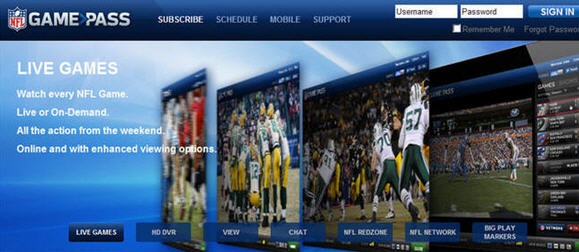 NFL Game Rewind – Games On Demand
If you don't mind waiting until the day after to watch games, you can see every NFL regular season game in high quality streaming video with NFL Game Rewind. With Game Rewind, you get DVR controls, access to a complete archive of every game from 2009-2012 and the ability to watch up to four games at one time.
NFL Game Rewind now comes in two different packages and will be available on tablets devices (Android & iPad) in 2012 via a separate app. The standard package will cost you $39.99 for the entire regular season. The Season Plus package (new in 2012 for $69.99) gives you access all the way through July, plus access to the new "All-22″ or end zone cameras. All games are available after midnight on Sunday, except for night games which are available by noon. Check out our review of NFL Game Rewind for more details.
You can subscribe to Game Rewind at NFL.com.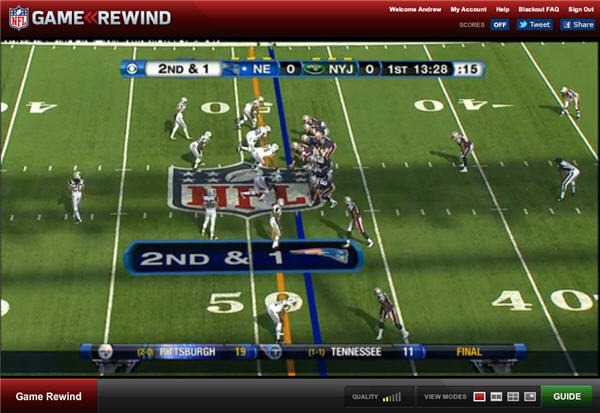 NFL Preseason Live
The Preseason isn't for everyone. If you are one of those that get into the position and roster battles, or just can't wait to watch any NFL games, you can watch every NFL game live and on-demand with NFL Preseason Live. It's $19.99 for the entire Preseason (available until September 15th). New in 2012, is the NFL Preseason Live iPad app that will let you enjoy NFL Preseason Live on iPads and certain Android Tablets. In past season, the NFL has lowered the price each week, so waiting a week or so to watch may save you a few bucks. Local blackout apply, so if a game is on in your area, it won't be available live, but it will be available later on-demand. You get more info or sign up for NFL Preseason Live here.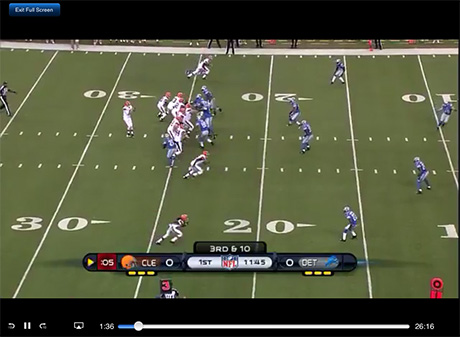 NFL Mobile Premium on Verizon Wireless
Verizon Wireless customers with iOS or Android phones or tablets can watch Sunday Night Football, Monday Night Football, Thursday Night Football, and NFL Red Zone Channel on their mobile devices for $5 / month by subscribing to NFL Mobile Premium. It's an exclusive offering through Verizon, so if you've got another carrier you're out of luck. The NFL Mobile Premium also gives you 24/7 access to the NFL Network.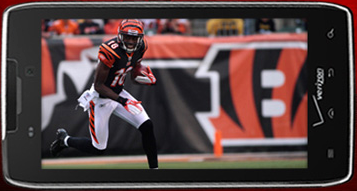 Overview
We are almost to the point where every NFL game is available to legally watch live online. As far as we're concerned, that day can't come soon enough.
Category: Live Sports Online, NFL