The Best NFL iPhone & Android Mobile Apps for 2011
If you've got an Android or iPhone, there's no reason to be out of the loop with the latest NFL news. Here are some of the best NFL mobile apps to keep you connected to the NFL while you are on the go. Bonus: Most of them are free!
NFL Mobile (iPhone & Android – Verizon Only)
iPhone: NFL Mobile – Verizon Wireless IT
Android: Download NFL Mobile from the Android Market
Let's get the negatives out of the way first. The bummer for many is that this app is only available to Verizon customers. The bummer for everyone else is that a VCast subscription may be required if you want to watch video. It should also be noted that NFL Mobile is only available on certain compatible phones.
Now for the good stuff. Even without a subscription, you'll get live audio of all NFL games, plus team news, and real-time stats and scores. The killer of all killer features is live streaming of NFL Red Zone on Sundays. If you've never experienced NFL Red Zone, you need to. It's phenomenal. You also get every Sunday and Thursday night game streamed live to your phone, and NFL Network 24 x 7. That's a pretty significant trio of top notch NFL content.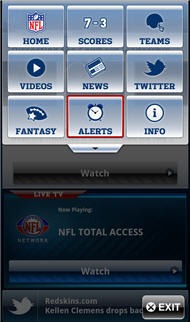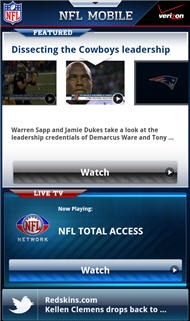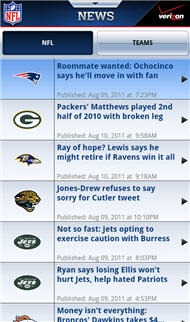 NFL '11 (iOS & Android – Free)
For everyone not on the Verizon Network, there is the NFL '11 app. You won't get all the multimedia goodies that come with Verizon's NFL Mobile, but you will get the basic stuff like schedule, news, and stats.
iOS: Download NFL '11 for iPhone  or the iPad optimized version: NFL '11 for iPad
Android: NFL '11 from Android Market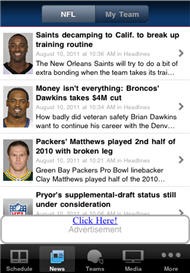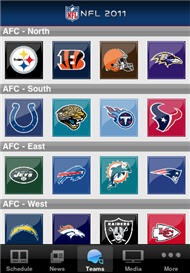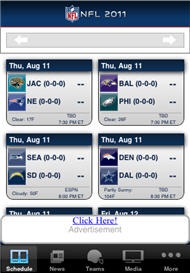 NBC Sports Talk (iOS & Android – Free)
iOS: Download NBC Sports Talk for iPhone or NBC Sports Talk for iPad.
Android: Download NBC Sports Talk App
ProFootballTalk.com has established itself as the premiere site for NFL News and Rumors. While PFT doesn't have it's own app, it's included as part of the NBC Sports Talk app. It has a nicely designed interface and it's easy to scroll through the recent posts and read the optimized articles. There is also an iPad optimized version.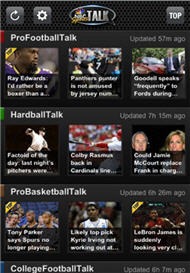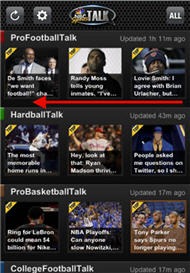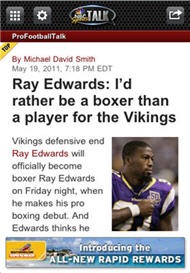 Sporting News – NFL (iOS & Android – Free)
iPhone: Sporting News Pro Football
Android: Sporting News Pro Football App
Sporting News brings all it's It's easy to navigate through the mobile optimized articles with the "Prev article" and "Next article" buttons of scroll through the list. Set your favorite team and easily access their team page from the home screen.
Each team page includes rosters, schedule, news articles and team Twitter feed. It also has a league wide scoreboard with nice box scores. You can also customize the app with the colors of your favorite team.
Android Version: Android app has all the same features, but doesn't have access to the Scoreboard from the home screen. You have to actually choose one of the sections (News, Teams, etc.), and then press the Menu button on the phone to access the Scores. Android also features a Twitter feed that includes all NFL teams accounts, Sporting News writers, and NFL accounts.
Oddly, the rosters are all current, but the schedules have not yet been updated for 2011. We assume that will be coming shortly in an update to fill out this solid NFL app.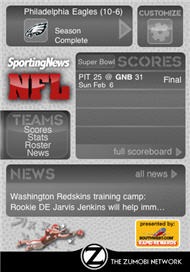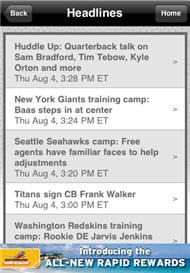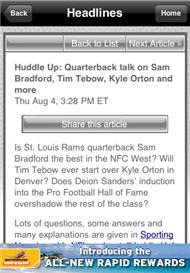 Pro Football Insider (iPhone & Android – Free)
You get all the latest content from Pro Football Weekly, one of the top Pro Football publications. Pro Football Insider has a few key features that you won't find in most football apps: Injuries & Transactions. It might be worth having in you NFL App arsenal just for those two features. It also has a Twitter feed for NFL players and one for NFL Media.
iPhone: Pro Football Insider – Pro Football Weekly
Android: Download Pro Football Weekly from the Android Market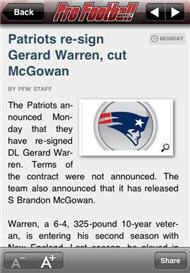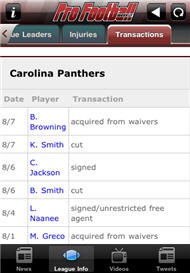 NFL Sunday Ticket (iPhone / Android – Free / $49)
If you are a subscriber to Direct TV NFL Sunday Ticket, you can take it with you on the go with mobile apps for iPhone and Android. You must be an NFL Sunday Ticket subscriber, otherwise this app won't do you any good. The app is free to download, but you need to purchase NFL Direct TV to Go package to watch games on iPhone
iPhone: Download NFL Sunday Ticket – DIRECTV, Inc. for iPhone or Sunday Ticket – DIRECTV, Inc. for iPad.
Android: Download NFL Sunday Ticket – Direct TV from Android Market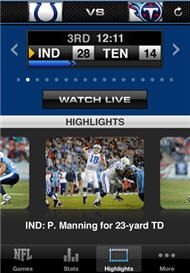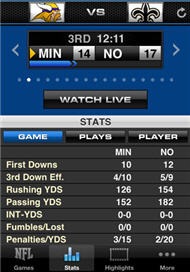 National Football Post (iPhone / Android – Free)
The National Football Post is one of the web's premiere destinations for NFL news and analysis. You can customize which teams are displayed in the Team News section. Free and Ad supported.
iPhone: Download National Football Post for iPhone
Android: Download National Football Post from the Android Market.
We'll keep this post updated and add any worthy apps as they become available during the season. Are you looking for an app for your favorite NFL team? Check out our Complete List of NFL Team Mobile apps.




by