Review: NFL Mobile App from Verizon
You may have noticed the deluge of commercials during NFL games promoting the new NFL Mobile app available exclusively through Verizon. (If your cell carrier isn't Verizon, you're out of luck…)  The NFL Mobile App features an impressing lineup of features, including the NFL Network, and the even-more-awesome-than-you-can-image NFL RedZone streaming live to your phone. Let's take a closer look at the NFL Mobile App.
Verizon shelled out a reported $720 million for the exclusive 4 year rights to distribute NFL content on it's network. This includes the live streaming NFL Network and NFL RedZone. The NFL Mobile App itself is free, but the video (NFL RedZone, NFL Network, Sunday and Thursday Games, and any other video stuff) will cost $9.99 per month via VCast subscription. Although, some Verizon customers are getting this for free for the first year, which we will look at a little closer later in the post. In the interest of full disclosure, I am one of those fortunate Verizon customers.
Note: My experience on the NFL Mobile is with the Motorola Droid. The original Droid, not the recently released Droid X or Droid 2.
The current version is 2.0.4  The most recent update, which came just before the NFL season started, installed the new features like NFL RedZone, 25 Live Thursday and Sunday night games, Live Audio broadcast of every game, and a Fantasy Tracker.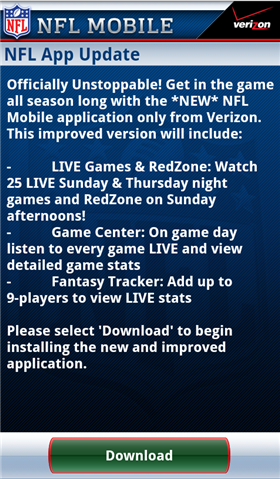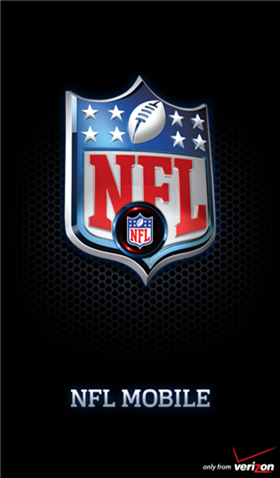 The Basic (Free) Stuff
When you log into the app, you can navigate though the latest news and videos or jump to NFL Network live by pressing the button at the top. Press the Menu button on your phone to bring up the other options.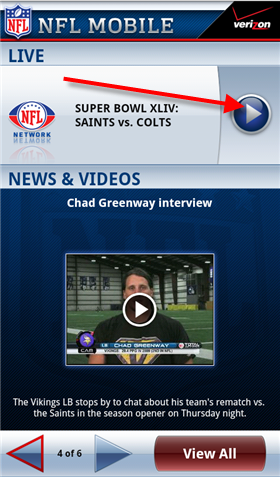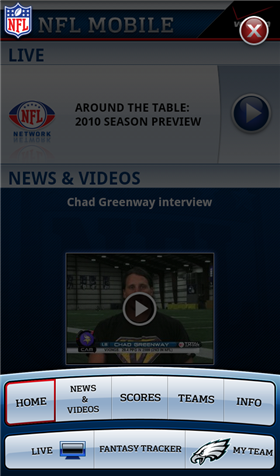 You'll get plenty of News and Headlines…
Fantasy Tracker
Simply select Add Players and type in names to search for your fantasy players. You can add up to 9 players to your tracking list.

Select the player to add him to your Fantasy Tracker list. Press Edit at the top ( I cut off half the button in the pic) to change the tracker list by deleting and adding players.

Scores
Select a match-up and you'll be taken to the game center. Before the game you'll see preview articles…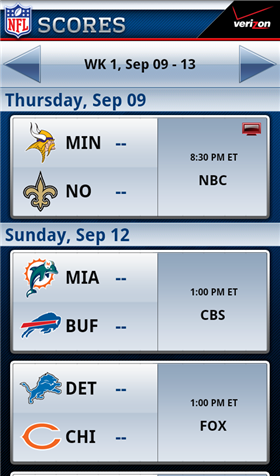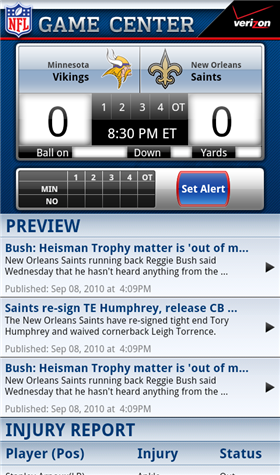 … and a full injury report. You can select to have a text message alert sent to your phone to remind you that the game is starting.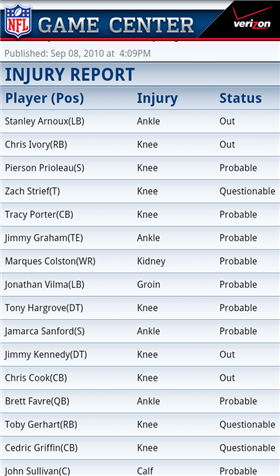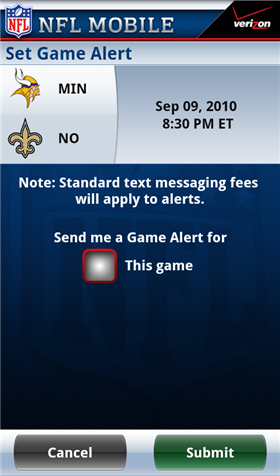 Live Audio of Every Game
I really dig the Live Audio feature. You get the radio feed of every game, which is nice when you are on the go. The only minor complaint I'd have with the set up is that you don't seem to be able to choose your preferred team feed like you can in the NFL Audio Pass.
In week 1, I experienced a lot of choppiness in the audio stream…. basically to a point were it wasn't worth listening. However, the choppiness was gone in week 2 as I was out running around for much of the afternoon and able to listen to games smoothly the entire time.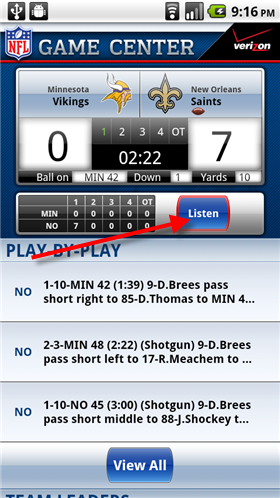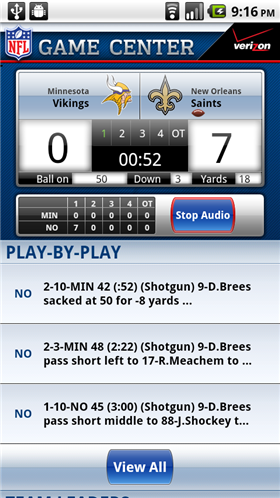 Teams
Select any team and you'll get team news…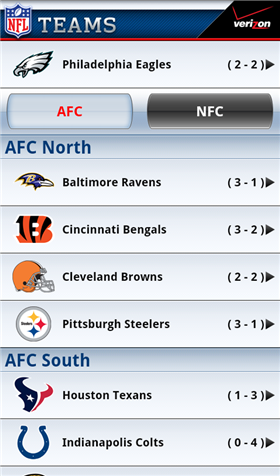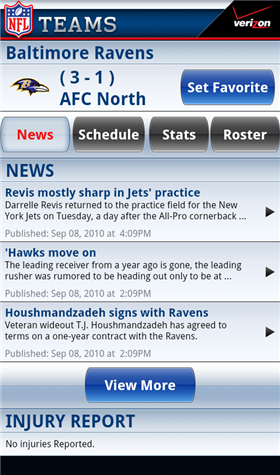 Team injury reports, Schedule, Stats, and Rosters.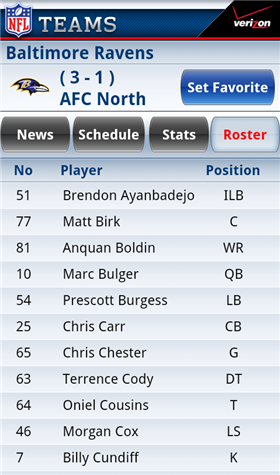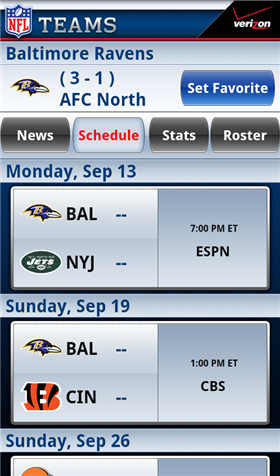 The Good (Pay) Stuff
Basically, you have to pay for any of the video content delivered by the app.
NFL Network
You get the NFL Network live on your phone 24 / 7. You know, the same stuff that goes out over NFL Network on your TV, streams right to your phone. NFL Total Access, Playbook, NFL Replay, etc.
NFL RedZone
If you've never seen NFL RedZone, trust me, you're missing something. It's fantastic. It airs from 1pm until around 7pm every Sunday. In my area, NFL RedZone (and it's affiliated tier channels on Comcast) runs about $7 / month.
Live Sunday & Thursday Games
All 25 Thursday and Sunday night games live. This includes games typically broadcast on NBC and NFL Network.
Who Gets it For Free?
Excellent question. I've read and received several different answers. I've been told by a reliable friend that Verizon Customer Service Rep told him everyone with an unlimited data plan with Verizon ($29.99 / month) gets the app with full access for free. However, I've read on multiple forums users complaining that they already have the $29.99 unlimited plan and are still prompted to sign up and pay for VCast.
There also have been numerous internet rumors that it is free to users who downloaded before July 19th, 2010. One way or another, I am appear to be getting it for free. I downloaded the app back in April, so there could be truth to the July 19th rumor. I also have the unlimited data plan, so I may qualify under that one too. The only official Verizon documentation I can find states that a $10 / month vast subscription is required after August 31st to view any video content.
Can You Hook it up to Your TV
From what I understand, no. I have a original Droid, which doesn't have any sort of output, so it's a moot point for folks with those devices. But, apparently that functionality is also blocked by the app on devices that have HDMI output.
Overview
Upside
If you only use the free stuff the app is worth your time. Especially if you enjoy listen to games on radio and take advantage of the live audio feed. Many have complained that $9.99 / month is too much to pay for the video access. And yes, $9.99 will be a little salty for some, perhaps even for most, especially in this economy. For others who can't spend their Sundays parked in front of a TV, or just can't get enough NFL access, this app may be a godsend.
The picture quality is quite good, although the image below doesn't quite do it justice.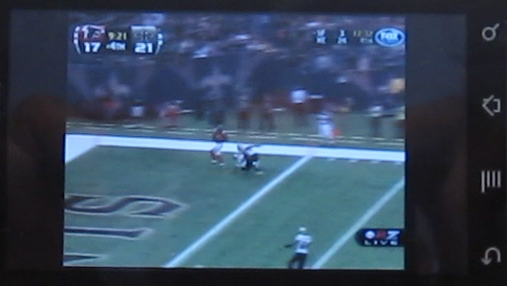 Whether or not to purchase is up to the individual, but NFL RedZone, NFL Network, and Live Sunday / Thursday Games are three pretty strong reasons to shell out the cash if you can spare it. If you've never seen NFL RedZone, trust me, you're missing something. It's fantastic. It airs from 1pm (EST) until around 7:30pm every Sunday. I've spent part of the last three Sundays watching one game on TV and the NFL RedZone on my phone.
Downside
I've experienced audio / video sync issues at times with the live video. It seems to get worse the longer you watch. It's been more noticeable while watching NFL Network, but I also noticed sync issues while watching NFL RedZone. With the RedZone, it was not as noticeable and not a huge issue since you are watching a game. However, on the NFL Network, when it happens, it gets annoying very quickly. This sync issue can be reset by exiting out of the app and re-entering, but the fact that it happens at all is far too often for $9.99 / month.
There is also some occasional "pixilation" of the video. It normally lasts just a second or two and I haven't found it to be a big deal. You can see an example of what I'm talking about below…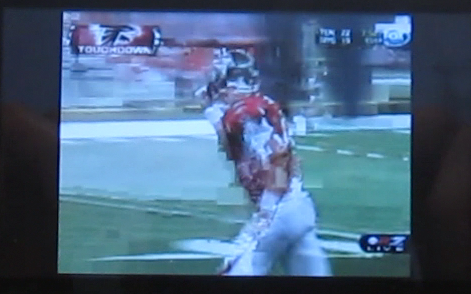 Finally, I don't mind having to shell out cash for the premium stuff like Red Zone, but not including the little NFL highlight and video clips for free is pretty weak.
The Big Question: Should you Buy it?
While a perfectly working app would get a resounding thumbs up from me, the video / audio sync issues make it a much tougher question. $9.99 / month seems very reasonable for NFL RedZone, NFL Network, and Live Thursday & Sunday games. But, the current issues give me pause. Knowing what I know about the sync issues, I'd probably pass on buying it. If the issues are resolved, I would be willing to shell out the cash. I can only speak to my experience, so I don't know how widespread the sync issues are, but I have read other comments about it in the Android Market.
If you are really a hard corps NFL fanatic, and don't think you'll be bugged by the sync issues, or can live with closing and re-opening the app periodically while watching, you might be willing to give it a try. If the wallet is a little tight these days and/or you already have access to these features through your cable or satellite provider, I'd recommend you pass on it.
Also, If you are wondering why it isn't free (or cheaper), consider that this app includes premium content (specifically NFL Network and NFL RedZone) that you can't get for free anywhere. Plus, if you factor in that Verizon shelled out nearly 3/4 of a billion dollars for NFL on it's mobile devices, it really shouldn't be a surprise.
Wondering if your phone is compatible? Find the list of phones on the NFL Mobile website by clicking on Compatible Phones.
Week #4 Update – I'm still experiencing the audio/video sync issues for the NFL Network and RedZone. The Audio issues seem to be completely gone as I was able to listen to the entire first half of the Green Bay – Detroit game while out jogging without any issues or disruption.
Week #6 Update – RedZone streaming seems to be working great for me today (10/16/2010) Been watching for most of the first half of the early NFL games with no noticeable lag or sync issues. However, I haven't been able to get the audio broadcasts of the games to work at all so far. Each attempt gives me an "Error playing audio. Please try again later" message. Plus, the app has frozen a couple times after trying to access the game audio.
Week #7 Update (10/24/2010) – Once again I am finding sync issues with the RedZone. I initially got the same audio error from last week again today, but it seems to be working Ok now.
I'll be adding additional comments on the NFL Mobile App from Verizon to this post from week to week as they come up. So, check back for any updates on the App. DO you have this App? What are your thoughts? Are you having issues? Should others buy it if they don't get it for free? Let us know in the comments!




by