Dallas Cowboys Mobile Apps for iPhone and Android
It's time for football again and Cowboys fans will want to stay up to date with all the latest on America's Team.  We've compiled a selection of available iPhone and Android apps for the latest Dallas Cowboys news and updates. 
UPDATE (8/7/2012) – The Cowboys have released a new "official" mobile app for Android & iOS.
FREE Dallas Cowboys Mobile Apps
Dallas Cowboys Mobile (Free – iOS & Android)
The Dallas Cowboys followed the growing number of NFL teams having their official team app being developed by YinzCam, inc. And, they've dumped their less than great paid app for a much improved free one. This one is the must have for Cowboys fans with news, stats, standings, on-demand video, injury updates, depth charts, game previews, social media and more.
Android: Dallas Cowboys Mobile for Android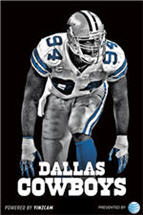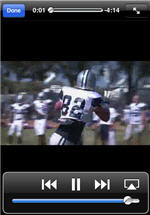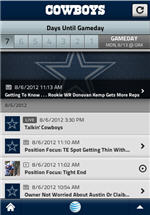 Cowboys 24 x 7 (Free – iOS)
This iPhone app pulls the latest news articles from a  variety of sources and blogs. Most of the articles are mobile optimized. It also includes a season schedule.
Download 24-7 Cowboys from iTunes.
ESPN Dallas.com (Free – iOS & Android)
ESPN Dallas covers all Dallas sports, not just the Cowboys. It features a limited number of articles articles from ESPN sources. With a paid upgrade you can get access to ESPN Radio 103.3, but we recommend using the TuneIn Radio app to access the station for free.
Download ESPNDallas.com from iTunes or the Android Market.
The Landry Hat (Free – iOS & Android)
The Landry Hat is a Dallas Cowboys blog and part of the Fansided network. The app pulls articles from the Landry Hat blog, but unfortunately they are not fully optimized for mobile viewing. Typically, you get a story intro before you are met with a link that takes you to the full, non-mobile optimized website. Other sports news from Fansided is included in the news feed, but you can remove them in the settings.
Download The The Landry Hat from iTunes or the Android Market.
Cowboys News Live (iOS – Free)
Pulls articles from an impressive array of sources which you can customize in the settings. The unfortunate thing with the app is you only get a snippet of the article before you have to follow a link to he source site which is typically non-optimized for mobile.
Download Cowboys News Live for iPhone.
Cowboys News (Android – Free)
A basic News aggregation app for the Dallas Cowboys. Pulls from a lot of local and national sources. Unfortunately, like far too many apps, you just get a snippet of the articles before being forwarded to a non-optimized web site to read the entire article. We'd have to call it the best of the free Android apps, but that's not exactly high praise considering the competition.
Download Cowboys News from Android Market
PAID Dallas Cowboys Mobile Apps
Dallas Cowboys 2011 News and Rumors ($1.99 – iOS)
Pulls content from multiple sources including Dallas Cowboys website, ESPN, FOX, NBC, NFL, Yahoo, and others. Includes 2011 schedule, roster, and standings.
Download Dallas Cowboys 2011 News and Rumors from iTunes.




by