Best Sports Talk Radio Apps for iPhone and Android
Are you a sports talk radio fan looking for the best way to listen your favorite local and national sports radio personalities? We take a look at the best Apps for consuming Sports Talk Radio on your mobile devices. 
Best Sports Talk Radio App
TuneIn Radio (iOS & Android)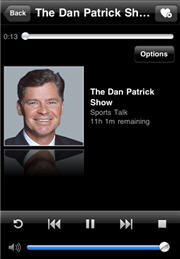 If you're a frequent reader of this site (and if you are, thank you!) you may also know that we are big fans of TuneIn Radio. Although it's a full radio app, not specifically a sports app, it is still hands down best in breed when it come to listening to Sports Talk Radio on your iOS or Android device.
Not only do they carry the major national networks like ESPN and Fox Sports Radio, but loads of  regional Sports Talk shows and stations. Browse or search for programs and then save them as favorites for easy access the next time you listen. You'll also find some sporting events (not NFL or MLB, which have restrictions) & sports podcasts, including ESPN podcasts like PTI and the BS Report. The app is free (ad supported), but there is also a Pro version without ads that even allows you to record shows and stations. (Free w/ $0.99 Ad free Pro version)
Android: Download TuneIn Radio from the Android Market
iOS: Download TuneIn Radio Free or Pro from iTunes or the App Store.
Honorable Mention
ESPN Radio App (iOS & Android)
The ESPN Radio app is a well designed, user friendly app. It not only carries ESPN Radio from Bristol, but more than 2 dozen ESPN Stations around the country, plus ESPN Deportes Radio, ESPN podcasts, ESPN News, and the latest SportsCenter Updates. Overall, a fine quality app that runs $2.99 for both iOS and Android.
We've found the Android version of the ESPN Radio app is not as reliable as TuneIn Radio. It drops signal too often. The iOS version seems a bit more reliable than Android, but now that TuneIn is free for iOS, ESPN Radio App just can't measure up, especially since most of the ESPN content is available with the TuneIn App. ($2.99)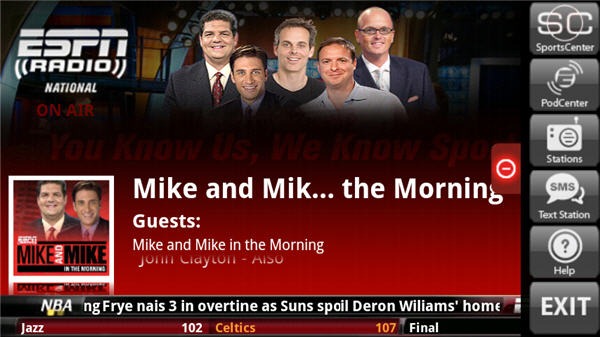 Android: Download the ESPN Radio App from the Android Market
iOS: Download ESPN Radio from iTunes or the App Store.
Others
Sports Radio Droid (Android)
Sports Radio Droid is an Android-only app that aggregates a number of Sports Radio stations from around the world. We like that you can browse strictly for sports stations by location, but many of the locations currently have limited stations, and in some cases, no stations. It also lacks a search feature and isn't the most visually appealing app in the market. The app is free and ad supported with ad-free "Pro" version for $1.99. We found the ads to be a little intrusive and it's somewhat annoying to be prompted to upgrade every time you open the app.  It's an OK app, it's just needs further development before it can be considered a serious option for Sports Talk Radio fans. (Free w/ $1.99 Pro upgrade option)
Download Sports Radio Droid from the Android Market
A Sports Radio (Android)
A Sports Radio is another Android-only Sports Radio app with a limited selection. It does have a search feature, but browsing is difficult because stations are broken in generic categories like Sports-1 and Sports-2. It's ok, but like Sports Droid Radio, not a serious option for Sports Talk Radio fans. (Free)
Download A Sports Radio App from the Android Market
ESPN Deportes Radio (iOS & Android)
ESPN Deportes Radio is available with the full ESPN Radio App, but also comes as a free stand alone version for both iOS and Android. It has the same layout as the ESPN Radio app, but only offers ESPN Deportes content.
Download ESPN Deportes Radio for iPhone or iPad
Download ESPN Deportes Radio from the Android Market
iHeartRadio (iOS & Android)
iHeartRadio is a free app for iOS devices. This is another full radio station app as opposed to a sports radio app. It's has a nice design and layout, but doesn't have the selection of TuneIn Radio. It has very few ESPN stations, but many Fox Radio stations. (It only carries Clear Channel run stations) It's a decent option if you find your favorite stations and want an app that also plays music radio. (Free)
Download iheartradio from the Android Market
Download iheartradio for iPhone or iPad from the App Store or iTunes.
WunderRadio (iOS)
Available for iOS, Android, this is a premium app that would be a solid choice if it were free, but at $6.99, it's not worth the money. It's no better than TuneIn Radio even without the hefty price tag. ($6.99)
Download Wunder Radio for iPhone or iPad
Dan Patrick Show iPhone App (iOS)
The Dan Patrick Show App is free and available for iOS devices only. Obviously, the appeal of this one is limited only to fans of Dan Patrick. It's a visually appealing app very similar in design to the ESPN Radio. Unfortunately, to play in the background, you're required to do so in the Safari browser, not from the app itself. The addition of past show clips is great, but you can't skip forward or back within the clips. Even for someone who only listens Dan Patrick, you are better off with TuneIn Radio. (Free)
Download The Dan Patrick Show from iTunes or App Store.
What is your favorite Sports Talk Radio mobile app? Is there one that you believe we should add to the list? Let us know in the comments!




by