Watch Select 2012 PGA Tour Events Live Online with Live@
Looking for a way to watch some great PGA Tournament golf live online? With LIVE@ from PGATour.com, you'll be able to watch exclusive coverage of many of the top tour events online. Events such as The Memorial, The Players Championship, and the Tour Championship are among the ten events scheduled to be broadcast live online in 2012.
Live@ is different from the typical TV telecast. For example, during the Players Championship at TPC at Sawgrass in 2011, Live@ broadcast exclusively from the 13th and 17th (island green) holes. You can use LIVE@ as a supplement to the regular TV coverage, or just enjoy constant action from some of the tournaments most interesting holes. New in 2012, you can also watch any Live@ broadcast via your iPad with the PGA Tour iPad app.
Watch LIVE@ from PGATour.com.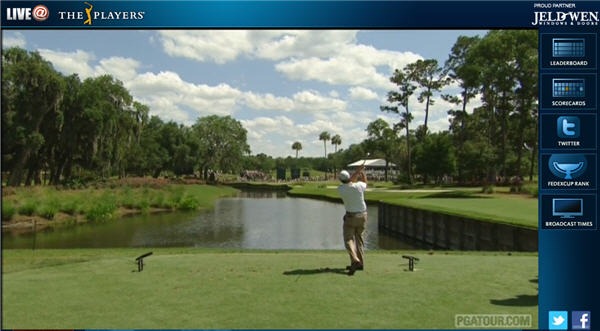 Select scoreboard on the right panel to pull up the latest leaderboad. You can use you mouse to drag it around the screen.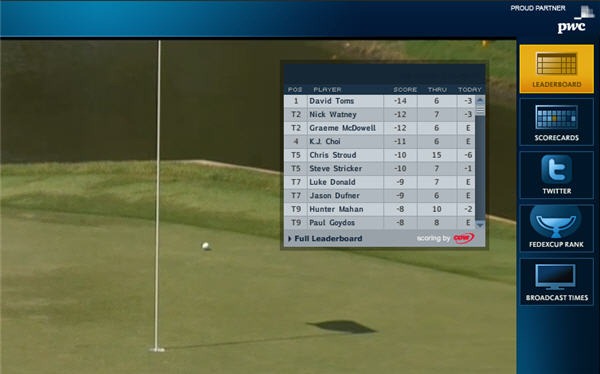 You can pull  up an Players scorecard by selecting scorecards on the right panel and using the search box to find your favorite golfer.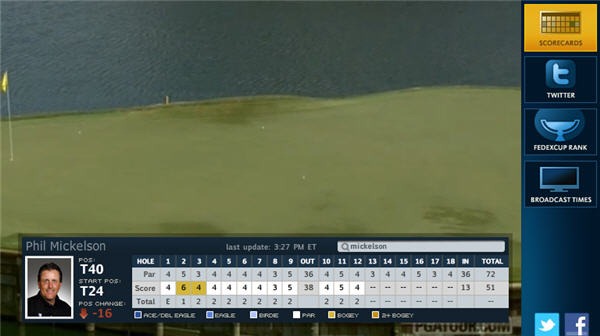 There is even a DVR feature that allows you scroll "rewind" by scrolling backwards. You can also, jump to full screen, mini mode, and control the volume with the volume slider.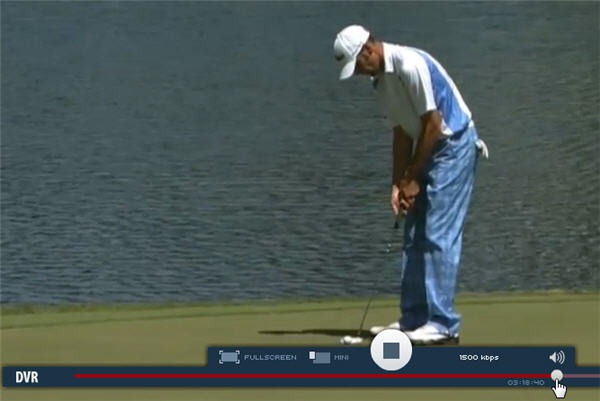 The "Mini" player displays the leaderboard below a small screen.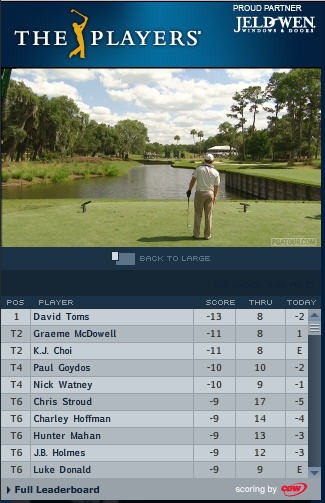 2012 PGA Tour Live@ Schedule
Jan 23 – 29 | Farmers Insurance Open | La Jolla, California
Feb 20 – 26 | World Golf Championships – Accenture Match Play Championship | Marana, Arizona
Mar – 11 | World Golf Championships – Cadillac Championship | Doral, Florida
Mar 19 – 25 | Arnold Palmer Invitational presented by MasterCard | Orlando, Florida
May 7 – 13 | THE PLAYERS Championship | Ponte Vedra Beach, Florida
May 28 – Jun 3 | The Memorial Tournament presented by Nationwide Insurance | Dublin, Ohio
Aug 20 – 26 | The Barclays | Farmingdale, New York
Aug 27 – Sep 3 | Deutsche Bank Championship | Norton, Massachusetts
Sep 3 – 9 | BMW Championship | Carmel, Indiana
Sep 16 – 23 | TOUR Championship by Coca-Cola | Atlanta, Georgia
Watch
Watch LIVE@ from PGATour.com.




by